Art doesn't stop with the what on the wall, the pedestal or the table for two Waco art venues, but includes a who or more inside.
Downtown Waco's Creative Art Studio and Theatre and the Art Center of Waco on the McLennan Community College campus go beyond simple exhibition of artwork to include interaction with real, live artists in their artist-in-residence programs.
At the CAST, it's an artists-in-residence program with five local artists, each representing a different media or style, working with and through the venue. At Art Center of Waco, it's working ceramacist Jonathan Martin — for you "Fixer Upper" fans, the one who presently supplies Magnolia Market with coffee mugs and pots — who'll move his studio operation to the center.
CAST co-owner Monica Shannon said the decision to name five artists-in-residence was meant to showcase a range of local talent and, conversely, draw attention to Waco.
"We've seen a tremendous amount of growth here at the CAST," she said. "In the last nine months, it's amazing how many talented artists have come through the doors. . . . We would like to put Waco on the map in terms of visual art."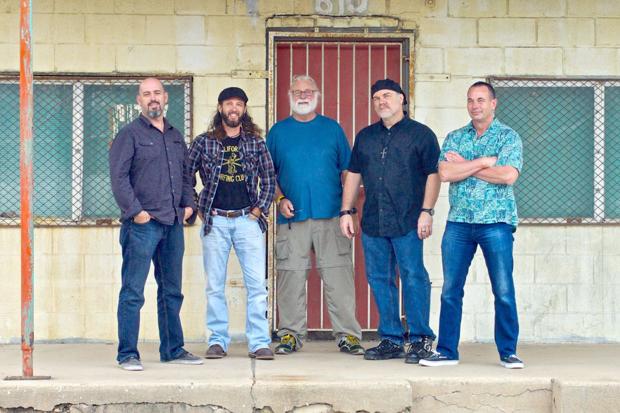 The five announced last month have shown work at CAST last year and are presently collaborating on a group project, Shannon said. Details of what the artists will do or how long they'll serve as artists-in-residence haven't been hammered out yet, but they'll likely do demonstrations and talks about their particular medium throughout the year, she said.
The CAST's artists-in-residence are:
• Brian Broadway — Painter whose works have sold across America and Europe. Best known for his monochromatic studies of celebrities and sports figures.
• Rick Duhrkopf — Photographer and Baylor University biology professor. Active member of the Texas Professional Photography Association with more than 40 years' experience in nature and landscape photography.
• Mark Kieran — Painter whose popular surrealist and abstract works have made him the CAST's best-selling artist.
• Rocky Kelley —Painter known for fantasy work in various genres, including Dark Romanticism and Surrealism. Winner of the Director's Award at the World Fantasy Art Show and illustrator featured in "Rayguns Over Texas Anthology."
• Greg Peters — Emmy Award-winning animator who has worked for the likes of Hanna Barbera, Warner Brothers, Nickelodeon and Disney Studios.
For Kieran, selection as an artist-residence is the latest confirmation of his fairly recent move into professional art.
"I've been dabbling in art for most of my life, but this is the first place I've really been able to exhibit my work," said the 45-year-old Hewitt painter and musician. His abstracts and fantasy images are characterized by strong color and a swirling effect.
He's shown pieces at Art Center of Waco and The Blue Horse, but his biggest success has been at CAST. "I'm not really sure what the secret is there . . . but I've been really fortunate in that regard," he said.
At Art Center of Waco, Martin is the latest of Waco artists who have worked as resident artists at the center, joining Flip Kimmel, Chesley Smith and Jan Harvey. Like center instructors Kay King, Deborah Reed-Propst and Sara McCormick, he's also a former school art teacher, having taught digital media and graphic design at AJ Moore Academy and University High School.
The 2000 Baylor University graduate runs Black Oak Art, which sells his clay work. He had worked at Anthem Studios in downtown Waco, giving ceramics lessons as well as creating pieces, and was planning to move later this year to a larger space downtown being developed by Dichotomy Coffee & Spirits owner Brett Jameson.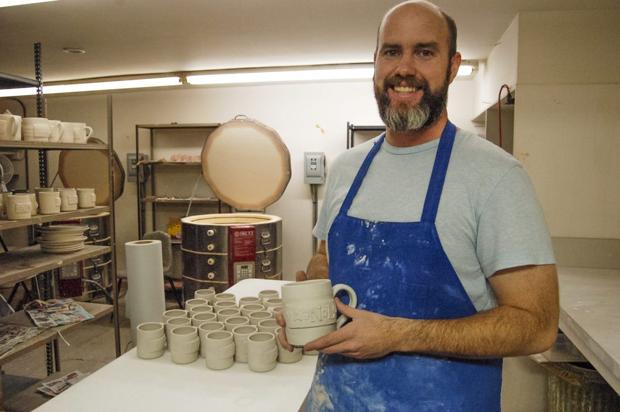 Martin needed the larger space thanks to another local business, Joanna and Chip Gaines' Magnolia Market. The potter had created a set of mugs with the Magnolia logo for the Gaines, hosts of HGTV's "Fixer Upper" home remodeling show, to use for their gift baskets.
When the Gaines decided to expand their Magnolia Market, Joanna came calling to ask Martin to provide mugs and pots for her store. He agreed, but the scale of that order — about 600 pieces a month — pushed Martin more fully into the commercial end of his art and out of teaching.
He's had to hire an assistant and put a call in to Baylor's art department for clay students wanting hands-on experience.
Then Art Center of Waco board members came calling late last summer with an offer: They wanted a local working ceramacist to dust off the center's sporadically used clay studio in its basement and set up shop. The center's facility includes five electric throwing wheels, two large kilns, work tables and storage space for glazes, ingredients and drying pieces.
The position and move also would allow Martin to cut down on time spent away from his Woodway home, where he and his wife, Sara, are raising three children ages 7, 5 and nearly 3 years. He said yes.
As artist-in-residence, Martin will give lessons in clay work and ceramics for the Art Center of Waco — current instructor Kay King will continue her classes as well — and help with the center's educational program. The center also will receive a percentage of his objects sold in its gift shop and he and his students may produce an upcoming exhibit.
"It's great to have Jonathan to promote art locally and as a business," said Meg Gilbert, the center's operations manager. Not only does Martin have connections with an emerging downtown scene — the center would like to move there sometime in the near future — but he brings with him students who want to learn the craft of art, she added. For a center that has arts education as a core part of its mission, arts mentoring is something worth encouraging, she said.
With the holidays behind him, Martin and his workers have begun the work of cleaning up the center's basement area to make it more operational. He wants to show aspiring clay students and artists what a functioning studio looks like as opposed to a space only used for periodic lessons and storage.
"It needs some dusting off and some TLC (tender loving care)," he said.